Quite an ancient medieval town, Cambridge has a fair amount of architectural evidence of old times. Amongst the many options of how to spend a day in Cambridge, one may wander amongst the ancient streets or relax in one of the many gardens and parks or could take a punt up and down the River Cam. If the thought of a day spent punting appeals to you, then one can hire a punt or as an alternative one can hire a chauffeured punt. And to assist you with your punting are numerous small firms offering this service along the River Cam. Otherwise a cruise down the River Cam in a narrow boat is equally exciting.
Churches
Cambridge has been a favoured place of worship a as evidenced by the very many churches located in the city. Almost thirteen churches are situated within the city of Cambridge's confines. Of all the 13 churches in the centre of Cambridge, it is the All Saints Church which is said to be one of the most incredible samples of Gothic revival architecture to be found in the country. Church of the Holy Sepulchre is a worth mentioning church as it is one of only 4 round Norman churches in England. The smallest of Cambridge's churches is the St Peter's Church, which is hidden away in a peaceful part of the town centre. Another church which definitely deserves a mention is the Great St Mary's Church, the University church which provides the most spectacular panoramic views of the city and colleges of the University.
Accommodation in Cambridge
Here are some handy piece of advise looking forward to a visit to Cambridge. Since it is nearly impossible to view all of Cambridge in just twenty four hours, therefore the advise is that you spend a minimum of forty eight hours in Cambridge. If you and your family are in the process of deciding upon spending a few weeks in Cambridge it is incredibly important that you book your accommodation as early as possible as, sadly hotels in Cambridge tend to be surprisingly busy and are often fully booked well in advance. Cambridge apartments are always a cheaper option for those coming in large group and for a longer stay.

Cambridge and Oxford Historic Colleges of Britain Day Trip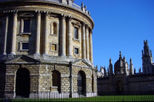 Find your own inspiration in the sense of tradition and intellectual curiosity that pervades this lovely City. You will visit Christchurch College, where Harry Potter scenes were filmed and where Albert Einstein studied. On your walking tour of Oxford you will see the Bodleian library and the picture-perfect College courtyards for which Oxford is justifiably famous.

Through scenic countryside to Cambridge, bridging centuries of scholarly rivalry between these two venerable institutions! Cambridge's stately Gothic style College buildings rise spectacularly from the greenery along the River Cam where students and visitors enjoy punting along the River.

You will visit the magnificent perpendicular chapel of King's College, founded in 1441, which is the finest and grandest example of late medieval Gothic architecture in England, and a fitting tribute to the great minds that have studied here. During your walking tour of the city filled with beautiful buildings and historical quirks, you'll visit the so-called "Bridge of Sighs", named after its look-a-like in Venice and several other Colleges that make up the University, each with their own stories to tell.
Click Here For Cambridge and Oxford Historic Colleges of Britain Day Trip